In our related post, we highlighted EPDM, (Ethylene Propylene Diene Terpolymer), roofing — one of the most popular types of commercial roofing products. Because of its cost-effectiveness, EPDM is in wide use as a commercial roofing solution, but while you may save money upfront, repairs and replacement costs can outweigh the initial economies.
On the plus side, EPDM roof systems are waterproof and virtually fire-resistant. They generally have a life expectancy of between 20 and 25 years, depending on environmental issues such as extreme weather. While they are energy efficient, they may actually cut down on UV protection and the roof's durability.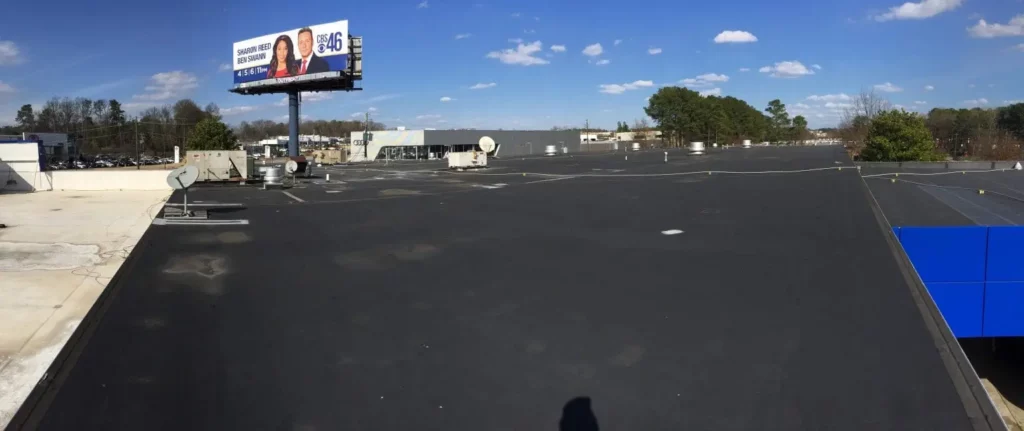 EPDM is made from recycled rubber products, with sawdust or slate material thrown in for durability and strength. This material is generally black in color and comes in sheets of single-ply that are most commonly glued down across the entire membrane. The seams and flashing are then reinforced with rubber tape.
Today, EPDM comes in a variety of lighter shades that are gaining in popularity due to their ability to reflect the sun.
Types of EPDM Roof Repairs Available
In our Part I post on EPDM repairs and upgrades, we look at the drawbacks of EPDM roofing systems, including seam failures, shrinkage, and potential water damage from punctures or roof integrity problems. We also look at the positives and negatives of repairing an EPDM roof and what can be expected for your capital outlay.
There are four types of repairs or upgrades that can be made to an EPDM roof. In our analysis, we start with the least expensive and work toward the costliest, outlining the good and the bad for each option. We began our journey in Part I, with silicone coating, and continue here.
Single-Ply Recover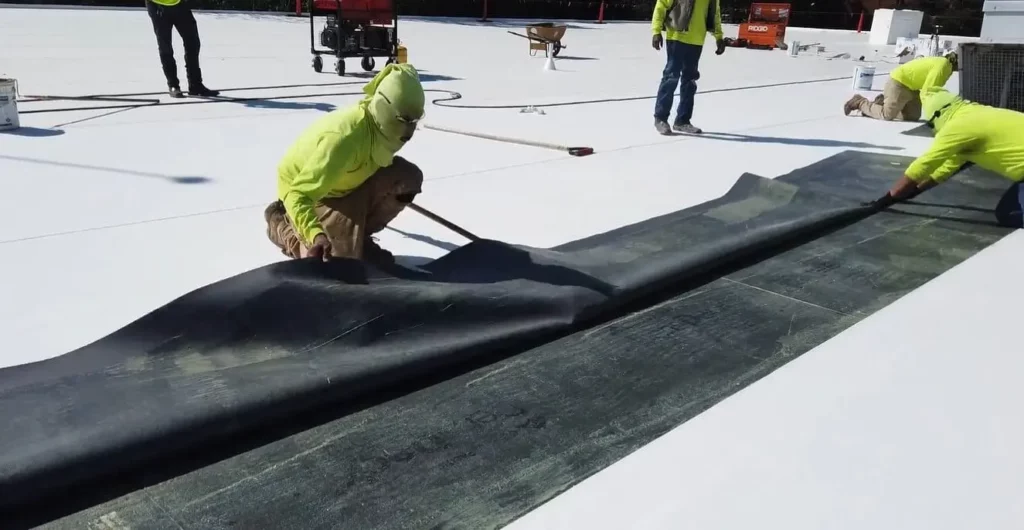 A Single-Ply Recover basically creates a new roof adhered to the existing roof.
A layer of cover board is fastened onto the original EPDM, and then a TPO, EPDM, or PVC membrane is rolled out and adhered or mechanically attached to the roof. Like the original application, all penetrations and flashings are reinforced with rubber tape to create a water-tight seal.
A single-ply re-cover may be a good solution when the following conditions exist:
One of the most cost-effective options available, and it will add years of life to the roof.
Single-ply recovers typically come with a manufacturer's NDL warranty of up to 20 years from top manufacturers.
This type of roof allows for a variety of different types of membranes to be installed that will suit each customer's needs.
Conversely, one downside to a single-ply re-cover is that it is more expensive than silicone coating. However, this may be offset if your existing roof has a shrinking membrane or seals that are broken or a generally poor condition of the roof near the end of its usable life.

Benefits
Using a single-ply recover as a repair option has benefits that make it a good choice for many customers, including:
Single-ply is a cost-effective method that is long-lasting and durable since you in effect, create a new roof on top of the old roof.
This type of roof, expertly installed, may last up to 20 or 25 years.
Because of its impressive performance, it qualifies for most manufacturers' NDL warranties from leading manufacturers.
There is a wide choice of material available that comes in many colors. Lighter colors typically have an excellent reflectivity that leads to energy savings long term.
The repair process is somewhat non-invasiveness.
Drawbacks
Drawbacks for this type of repair may include:
This type of single-ply re-cover repair relies on the structural integrity of the existing substrate for stability, and a full inspection is crucial to ensuring success.
Single-Ply Recover Repairs are Recommended for:
Existing EPDM roof surfaces that are in relatively sound shape with minimal leakage or water damage from unrepaired leaks or punctures.
Customers who are looking for a manufacturer's NDL warranty at a reduced cost.
Customers are interested in energy efficiency and also want more reflectivity to reduce heat inside the building, as well as reduced energy costs.
Wind-Vented System
A wind-vented or negative air pressure roofing system uses the wind to literally vacuum seal the roof. Using EPDM, TPO, or PVC material, is held in place by patented equalizer valves placed and fastened strategically on the roof to harness the negative pressure created by the wind to hold the roof in place. Quite literally, the harder the wind blows, the more secure the roof becomes.
A wind-vented repair may be a good solution when the following conditions exist:
According to the International Building Code, a 3rd layer repair is needed.
The roof has been saturated with water because of damage to the roof's integrity. This type of roof allows water to dry out underneath.
Benefits
With a wind-vented repair as an option, the benefits that make it a good choice for some customers, include:
While wind-vented repairs are more costly than either silicone coating or single-ply repairs, they are much less costly than a complete tear-off solution.
With its ultra-strong negative pressure resistance, wind-vented systems have a proven track record of holding up against extreme weather, including hurricanes (up to 150 miles per hour).
Drawbacks
The drawbacks of this type of repair include:
No major manufacturer allows an NDL warranty for a 3rd layer, therefore, only smaller manufacturers cover these warranties
Wind-vented repairs are not a good solution if there is severe rusting of the decking structure.
Saturated roofs need careful consideration when covering over existing damage. Assessment of the extent of the problem needs to be reviewed thoroughly by roofing experts.
Wind-Vented Recover Repairs are Recommended for:
Wind-vented repairs work well for existing EPDM roof surfaces that are in relatively sound shape with minimal leakage or water damage from unrepaired leaks or punctures.
This type of re-cover will provide a strong solution for roofs that already have two layers in place.
When customers who are budget conscious need an option that competes against a full tear-off option, wind-vented recovers are lower in terms of cost.
Consider this type of repair if the roofing system is sound, and there are no heavily damaged deck areas.
Full Replacement or Tear Off
The most extensive option, a full replacement or tear-off, removes the existing roof down to the deck and rebuilds it per international building code standards. In this scenario, the roof can be installed with any type of new material ranging from modified bitumen to TPO.
A full replacement may be a good solution when the following conditions exist:
The existing roof (or layers of roofs) has outlived its recommended life and is no longer repairable with coverings.
The roof has been heavily saturated with water because of damage to the roof's integrity.
The substructure needs extensive repairs or replacement.
Benefits
With a full replacement, the benefits that make it a good choice for some customers, include:
A full tear-off is the most secure way to ensure that a roofing system will not leak or malfunction.
You have the assurance that the condition of the decking is in top shape or any rusted or damaged decking will be replaced.
This type of repair or rebuild allows for the longest NDL warranties — up to 30 years.
During mitigation, any ponding water areas can be remedied with tapered insulation.
Drawbacks
The drawbacks of this type of repair include:
Full replacement is by far the most expensive method of repair.
This is the most invasive method of repair and requires closing the business during demolition and installation.
It will also take the longest amount of time to complete.
And finally, this is the riskiest method because it involves opening the roof and exposing the interior to weather conditions.
Full Replacement or Tear Off Repairs are Recommended for:
A full replacement gives the confidence and assurance that you have the most secure roofing system in place.
When there are ponding water issues, this is the only solution that will guarantee resolution.
If the existing decking is highly deteriorated and needs to be replaced, this is mandatory.
If none of the other options are viable, then full replacement is the only alternative.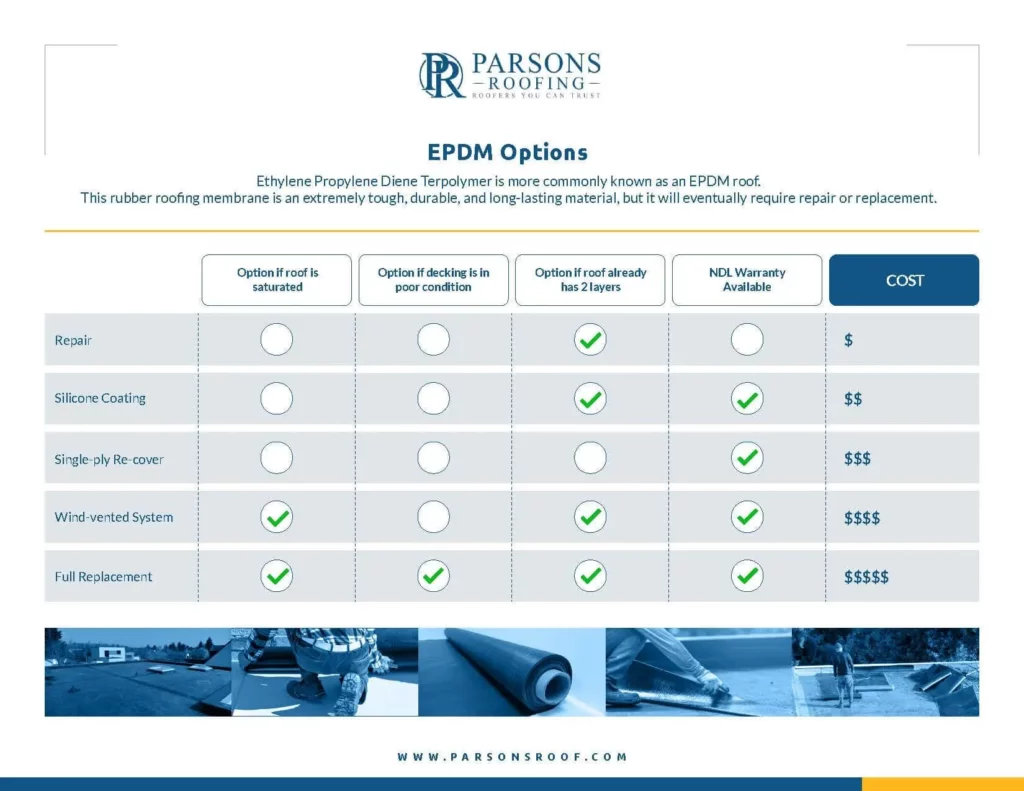 In this article, we briefly discussed EPDM roofs in terms of their composition, but please visit Part I for a more detailed discussion on the pros and cons of this type of roofing system. In the previous installment, we discussed silicone coating as a repair option as well. With this installment, we concluded a discussion on the best types of repairs, starting with a single-ply re-cover and ending with full replacement to give you a broad range of complementary solutions.
Parsons Roofing has been installing, repairing, and maintaining commercial roofs in the greater Atlanta area and the entire Southeast for more than 100 years. If you want to work with a roofing contractor that you can trust and be assured that they will be here in the future, work with us. Contact us to discuss EPDM roofing repair today.
And again, please reference our accompanying discussion about EPDM roofs in the companion article – 4 Options When Repairing or Upgrading Your EPDM Roof – Part I.