A new commercial roof is a huge investment of time and money with an expected life of decades. When considering this type of capital purchase, it's important to understand what kind of roof warranty coverage is available because not all roofing warranties are equal. By securing a strong commercial roofing warranty, you can save yourself and your company a lot of future problems and potential headaches.
To the roofing contractor, a commercial roof warranty is a declaration of craftsmanship and the promise to stand behind work with confidence. When selecting your roofing builder, remember that part of the equation is the strength of the warranties they offer on their work.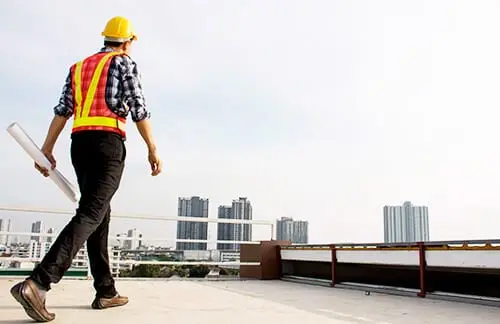 Is a Roof Warranty Really Necessary?
Why do you need a warranty? You want to insure against everything from minor flaws in materials or workmanship to major problems needing extensive repairs. When you install a new commercial roof, you are impacting the value of your physical assets and potential future sales price.
In a way, you are also striking a bargain with Mother Nature. Extreme temperature fluctuations, harsh seasonal weather, and pounding storms all impact the life and performance of a roof. Without a solid roof warranty, damage costs can become insurmountable, putting your organization at risk unnecessarily.
Roof Warranties – What's Actually Covered?
When a commercial roof is repaired or replaced, it is imperative that the building owner or manager understands what warranties are available for the work that's being performed. Each roofing contractor may offer several different types of warranties, but there may be significant differences based on each contractor's level of commitment.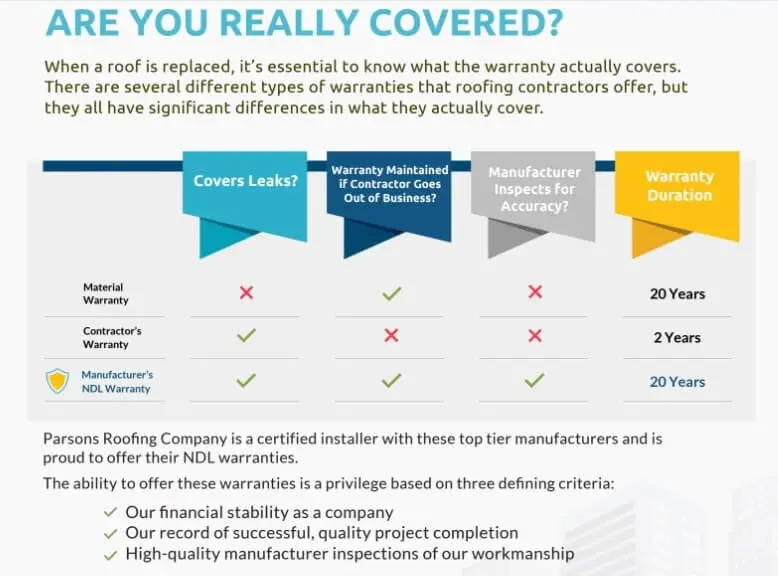 Material Warranty
The most common roof warranty is a material warranty. These types of warranties often come with long coverage periods of up to 50 years for some products. However, they are limited and often don't cover the cost to repair even minor leaks.
So, what do they cover? Generally, these warranties ONLY cover the cost to replace the material if there happens to be a defect in the material that occurred during the manufacturing process. Although it does give some peace of mind, a material warranty only comes into effect very rarely and always has many caveats that may void it completely.
As with any warranty plan, it is important to fully understand the implications. If repairs are necessary with a materials-only warranty, the costs of labor and construction may be prohibitive.
Contractor's Roof Warranty
A Contractor's Warranty is provided directly by the contractor and can be customized to include anything that the contractor chooses to cover. It's very important to thoroughly read and understand this type of warranty before the work is started and to obtain a copy in writing after the job is performed.
As a general example, a contractor's warranty will cover the cost of labor and materials to repair a roof leak caused by defects in the original workmanship. However, these types of warranties usually do not have long periods of coverage from the installation date, with two to five years being the industry standard.
With a contractor's warranty, there is typically no inspection by a third party to ensure that the work is performed correctly, and the customer ends up taking a lot in faith. Additionally, if a contractor goes out of business or moves out of the area, the building owner has no recourse if a roof leak occurs.
If you are interested in this type of roof warranty, make sure to do your due diligence before you place your trust in a contractor. Pay attention to how long the contractor has been in business in the area, ask for referrals, and request an inspection before committing to a contract.
Manufacturer's NDL Warranty
Finally, a Manufacturer's NDL Warranty, or "no dollar limit" warranty, is the strongest roof warranty in the industry. In order to offer an NDL warranty, a contractor must be licensed or certified by that manufacturer and maintain an excellent standing in terms of quality and craftsmanship. Some manufacturers require verifiable excellence in the industry (typically over decades) before they will allow a contractor to become certified.
When beginning a new roofing system with an NDL warranty, the roofing manufacturer's warranty division will require pre-approval of the commercial roofing system being installed before work begins and ensures that the roof can be installed to the specifications that were submitted. When the roofing project is complete, the roofing manufacturer sends its inspector out to certify that the roof was installed properly and according to their rigid specifications.
If everything passes inspection, the manufacturer will take liability for the roof warranty and pay the cost of labor and materials to repair covered leaks if they occur. These warranties can be between 5-25 years, with 20 years being the standard.
The Best Solutions Available
With any commercial roofing system installation or replacement, it's crucial to identify the type of roofing materials and construction that best fits your needs and your budget. It is also imperative to review the parameters that make your site unique, whether that includes access to the site, the anticipated timing of the project, or a variety of other considerations.
Once you have an idea, it's time to select a reputable roofing contractor with years of experience in the area that values high quality and craftsmanship and offers outstanding warranties that offer peace of mind as you protect your investment.
At Parsons Roofing Company, we offer all three types of roof warranty options with every commercial roofing proposal that we submit. We do this each and every time in order to offer our customers the best solutions available.
Contact us to learn more about our top-quality roof installation program as well as our roof warranty plans.