TPO or PVC? This post is all about TPO vs. PVC Roofing.
Thermoplastic polyolefin (TPO) and Polyvinyl chloride (PVC) are two of the most common roof membranes. Membrane roofing is designed to move water off the roof and poses a unique advantage to previous methods of flat roofing, which usually consists of asphalt or gravel.
While TPO and PVC products are both excellent materials for flat commercial roofs, one product may fit your needs more effectively. When looking at TPO vs PVC Roofing, there are some key differences to note. Let's look at the benefits of each, in order to help you determine which roofing material is the best fit for you.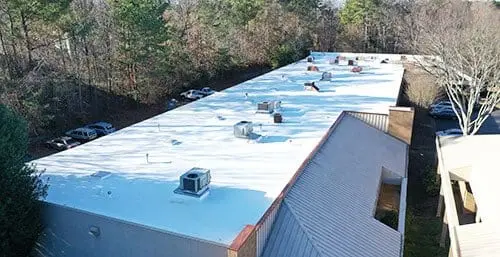 TPO Roofing – Combines Durability and Value
A TPO membrane is a single-ply roofing membrane made from ethylene-propylene rubber. A unique technology binds the two chemicals together along with filler materials to create durable protection with the advantages of a rubber roof.
TPO roofs are manufactured to meet different design needs and specifications. The product is offered in different colors, although white is commonly used. Because of this, heat is reflected instead of absorbed, which can have a positive effect on the interior temperature of the building. Each color retains solar radiant heat reflection properties that offer a substantial cost-saving advantage.
In addition to the cost-saving traits of TPO, flexibility, and durability make this product resistant to tears and other impact damages. After construction, it is common for buildings to settle and move. The flexibility of the TPO membrane allows the material to still perform adequately under these variable conditions without comprising the integrity of the membrane. Using a trusted roofing contractor will ensure that the TPO is installed correctly.
In a world that continues to go "green", TPO can meet that demand. TPO products provide energy efficiencies and are 100% recyclable, being made from products that are non-hazardous to the environment. This makes it an excellent candidate for small and large commercial projects with an emphasis on environmental impact.
PVC Roofing– Trustworthy and Industry Proven
The acronym PVC is widely associated with irrigation or drainage pipes. Though PVC roofing membrane is a hard material, it consists of a chemical property that makes it more pliable. A key difference that sets PVC apart from TPO is the chemical formulation. PVC's formulation has not changed over time because it has continually proven to last in the field. This material is typically used in restaurants, factories, and other structures in which off-gassing might be a concern. TPO's formulations have been changed quite often to try to help its lifespan. TPO does not last as long as PVC and is more of a commodity product.
TPO vs. PVC Summary
In most cases, TPO and PVC are viewed as highly comparable. PVC has been a staple in the industry longer, and for that reason, it is trusted by a slightly wider margin. With technology advancing in nearly all industries, there is a constant demand for new and less expensive products or options. TPO has used that demand to create a placeholder for itself in the marketplace.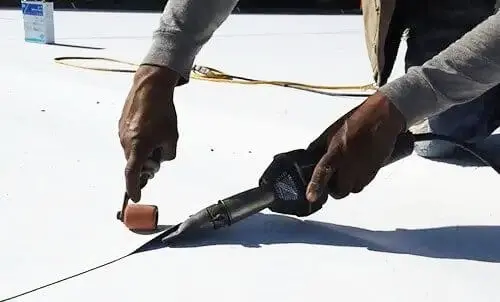 Both products offer substantial benefits to roofing solutions. Ultimately, what separates the two products the most is your project specifications. That's where we come in. The experts at Parsons Roofing are industry leaders in commercial roof membrane applications and can provide you with the best advice for your setting. Schedule a roof inspection today to receive non-biased, trustworthy consulting that is catered to your roofing needs.