As technology has advanced in the roofing industry, so has the variety of solutions for commercial roof repair and maintenance. As a leading commercial roofing company, it is our responsibility to deliver optimal solutions for any given scenario, as well as, maintain continued knowledge of the latest and greatest industry products and technologies.
Many times, a building owner's best choices for roof restoration are TPO membranes or silicone coatings. Both products deliver significant reliability while offering consumers attractive options for total repair. In this article, we will look at the key difference between TPO membranes and silicone roof coatings and work to determine which product is best suited for your commercial roof needs.
TPO Vs Silicone: TPO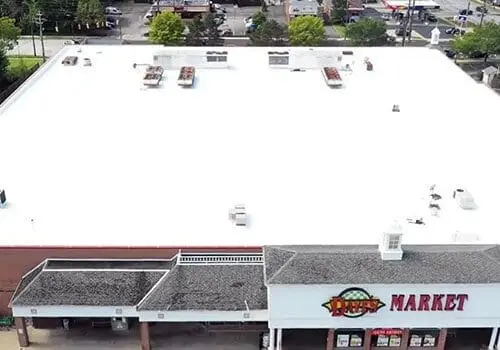 TPO Roofing Is A More Adaptable Installation Process
In general, TPO is safer to install. Mistakes can be easily fixed if they are made during installation. This characteristic makes most building owners more comfortable because the installation requires less risk and avoids the problematic issues that can arise from installing more complicated coatings.
TPO can be installed over rough surfaces like gravel and ballast. This is a key differentiator from silicone because of its ability to be applied to a wider variety of pre-existing roof materials. TPO is also more applicable over roofs with moisture inside of them because coatings will eventually blister if they are applied over wet insulation. TPO withstands this type of scenario significantly better, although it's always recommended to remove saturated roofing before re-roofing.
TPO Roofing Problems Are Easier to Fix
Though TPO is highly resistant to tears and punctures, it is not completely immune. It is, however, easy to repair when conducted by professionals. TPO membranes are heat-weldable, making patches for slight punctures or tears easy to fix for roofing professionals.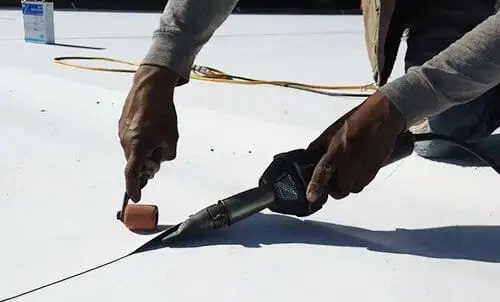 TPO is also more resistant to foot traffic. Commercial roofs are hosts to several added structures like HVAC units that require frequent maintenance. This added traffic creates wear and tear in high-traffic areas resulting in the need for continued upkeep or installing safeguard measures like roof walk pads. TPO provides a better first line of defense to high volumes of foot traffic and requires fewer additional protective measures for those areas.
TPO Roofing Has A Longer History in The Marketplace
TPO has been a popular industry product for the last several decades. In fact, nearly 90% of the commercial new construction market is TPO. It has a longer track record than coatings and is used more often by professionals. Generally, TPO warranties can extend up to 20 years and provide building owners with peace of mind and security. There are also fewer individual manufacturers of TPO because of the difficult barrier to entry. This creates a marketplace of more reputable sources.
TPO Vs Silicone : Silcone
Silicone Roof Coating Is a More Technical Application Process
A key difference between silicone roofing coatings and TPO roofing is their varying degrees of installation difficulty. Silicone roof coatings are more challenging to apply. This requires a building owner to be more selective in choosing a professional roofing contractor to apply the roof coating properly. Parsons Roofing Company employs true industry experts in this field.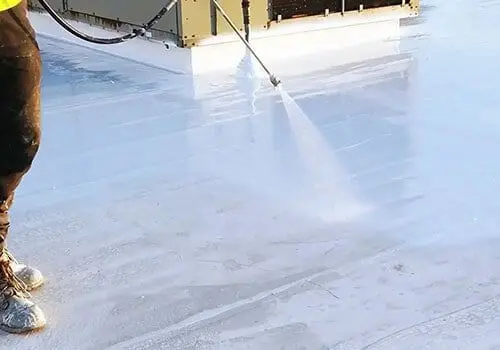 Silicone Roof Coating Are A Cost-Effective Solution
Silicone roof coatings are a more cost-effective alternative than a TPO membrane installation. Despite their lower cost, most coatings carry a similar or even superior warranty to TPO products. This is because silicone coating warranties do not specifically exclude sections of the roof where ponding water occurs for more than 48 hours like TPO. Also, applying a silicone roof coating is considered roof maintenance by the IRS which makes it fully deductible from taxes in year one. Georgia Power even offers rebates for silicone applications.
Silicone Roof Coating Is best for Energy Savings
Silicone roof coatings have major energy-saving properties. 98.8% of the Sun's energy does not penetrate a silicone roof coating. This means they are ideal for reducing building temperatures and can reduce temperatures by up to 50 degrees on the surface of a roof. Silicone roof coatings do not deteriorate over time like TPO roofs. They are the only UV-stable roofing system, which means that they will remain the exact same thickness decades after they are applied. No other roofing product can say this.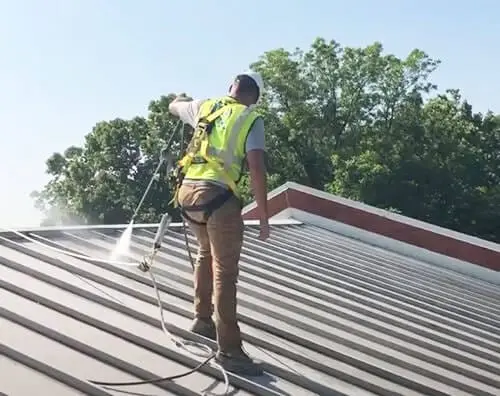 Silicone Roof Coating Product Have Saturated the Market
The silicone coatings industry has recently been flooded with new manufacturers trying to capitalize on the success of silicone roof coatings. This has created a product saturated market with cheaper and less reliable products. For this reason, Parsons Roofing Company exclusively uses top brands such as Gaco Western (Firestone Building Products) and Tropical Roofing Systems. These roofing manufacturers are the most reliable and deliver industry-leading data specs on their silicone roof coatings. To be the best commercial roofing company in the business, you must use the best products on the market. That's why we choose Gaco Western and Tropical Roofing Products.
Silicone Vs TPO: Looking Towards the Future
Technological advancements in products and services continue to shape the way that the commercial roofing industry operates. Employing the most effective solutions makes customers happy and keeps the business competitive. This trend is continuing as top roofing manufacturers around the world are purchasing roof coating companies with the belief that they will play a vital role in the future of roofing. This investment is truly indicative of the versatile application properties of roof coatings.
Silicone Vs TPO: The Rundown
TPO Roofing
Easier to install
Easy to repair
Work better with foot traffic
More applicable over roofs with moisture inside
Can be installed over rough surfaces like gravel and ballast
Have a longer track record in the market
Have long manufacturer's warranties
Has a lower number of manufacturers because of the tough barrier to entry, which means more reputable sources
Silicone Roof Coatings
UV-stable and does not deteriorate over time like TPO
Lower cost with a better warranty
98.8% of the Sun's energy does not ever penetrate the coating
Can reduce temps up to 50 degrees on the roof surface
Considered roof maintenance so they can be fully deducted from taxes on year 1 unlike TPO
An easier barrier to entry for manufacturers, thus leading to lower quality products
Harder to apply thus meaning riskier for the building owner to find a qualified crew
Silicone Vs TPO: Choose Parsons – Choose the Best
Both TPO roofs and silicone roof coatings provide beneficial solutions to the commercial roofing industry. We come to each job with an open mind and will recommend the best solution for your needs. Before making the ultimate decision on the direction of your project, contact our team of experts for a roof inspection and consultation. We are dedicated to helping our clients to choose the most appropriate solution for their needs and delivering unparalleled quality in the commercial roofing industry.