Commercial roof repair can be a cost-effective method to extend the life of your current roof and avoid a complete roof replacement. Flat roof repair methods are preventative measures that help avoid high costs and bigger issues down the road.
Choosing a trusted commercial roofing contractor will also ensure you get the maximum life out of your roof. By following the suggestions mentioned below, years can be added to your roof's useful service life, saving building owners a substantial amount of money in the long term.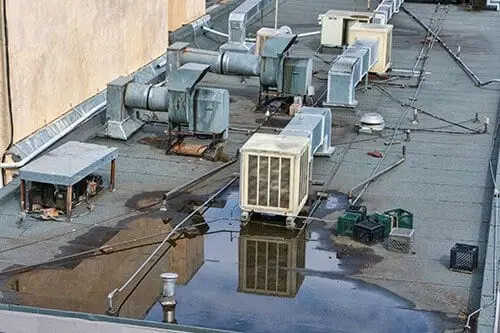 #1 – Immediate Commercial Roof Repair
Making repairs as quickly as possible is the number one method to help avoid major costs down the line. When water enters underneath a roof surface it ruins insulation and decking. These areas cannot be left alone, or they will continue to deteriorate making the possibility of a roof re-cover impossible. Commercial roof leak repairs should never be left without repairing them, or high costs will incur in the future.
Here are a few issues you should keep an eye out for if you have a commercial flat roof:
Punctures: a hole in the material
Open Seams: seams begin to open
Ponding: water ponds on the roof and remains stagnant
Fasteners: fasteners become loose
Blisters: gas expansion causes bubbles in the roof's surface that look like pockmarks
When you have a roof evaluation, all these concerns will be cataloged. However, regularly checking your roof for small issues in between inspections, will give you a head start on dealing with any new problems. By having an emergency repair completed promptly, you will be able to keep small issues from becoming more significant problems.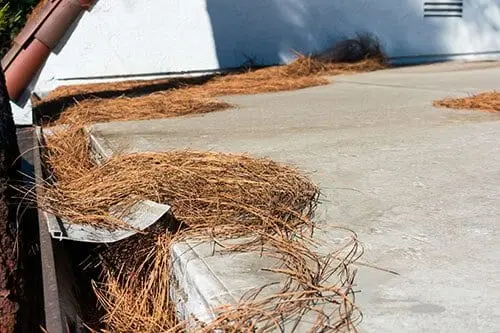 #2 – Commercial Roof Repair – Debris Removal
Keeping your roof free of debris will potentially help keep the roof leak-free. Keeping debris off your roof system will add years to its lifespan and help prevent a premature roof replacement. Depending on the surrounding environment, you may need to remove debris annually, bi-annually, or quarterly.
It is essential that adequate cleaning is regularly performed on the gutters, drains, leader boxes, and scuppers to avoid water damage to your roof or building. Regularly hiring a professional to remove debris and check on the durability of your drain systems will ensure a well-functioning roof system.
Learn about preventative roof maintenance here.
#3 – Commercial Roof Repair – Walk Pads
If your commercial roof needs an extra layer of protection, it may be wise to install walk pads. Walk pads are thick pieces of rubber material that are laid out or interlocked with the roof's surface. Walk pads are perfect if your roof experiences consistent foot traffic.
This traffic could be from a rooftop terrace or for a variety of other reasons. It will protect your roof from rough weather like hail as well as from pests and rodents. By giving your roof an extra layer of protection, you could avoid roof replacement for many more years.
#4 – Commercial Roof Repair – Roof Coating
Roof coatings can be added to existing roof systems to extend the life of the roof, even if it already has long-term wear and tear. Commercial Roof coatings are available for many types of roofing systems. The application of these coatings is appropriate for flat, smooth, or semi-smooth surfaces that have no underlying water. Roofing specialists will evaluate your roof to see if a roof coating is a viable option.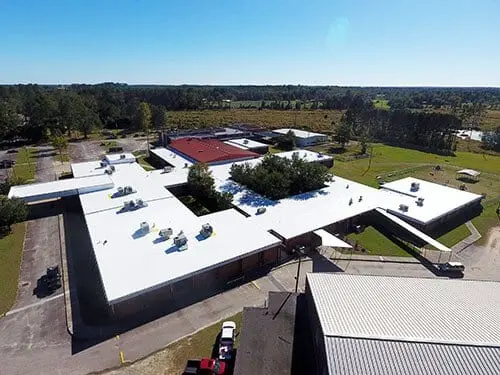 Commercial Roof Repair – Starting Strong
The best course of action that you can take to extend the lifespan of your roof and avoid a roof replacement is to start strong. Pick durable, high-quality materials that are installed by seasoned professionals at the beginning of a construction or remodeling project. There are quality roofs, and there are cheap roofs. By investing in a quality roof from the get-go, you will save thousands of dollars on repairs and roof replacement later down the road.
It is also essential to hire roofing specialists you can trust, that are also licensed, insured, and offer warranties. You want to make sure that your roof is installed correctly by a team that is both knowledgeable and experienced. By combining a quality roof with trusted specialists at the very beginning of your roof's life, you can avoid roof replacement for decades.
Contact us at Parsons Roofing Company with any questions or for additional information about how we can extend the life of your existing commercial roof.