Commercial roof coatings are revolutionizing the roofing market by changing the way that roofs can be rejuvenated and repaired. By having a silicone coating professionally applied, building owners can save thousands of dollars by avoiding total replacement, while adding an extended life to the roof backed by manufacturer warranties. Though roof coatings add substantial benefits for consumers, many customers haven't experienced great results with them.
Let's look at the three most significant factors that result in commercial roof coatings failing and causing long-term headaches for consumers.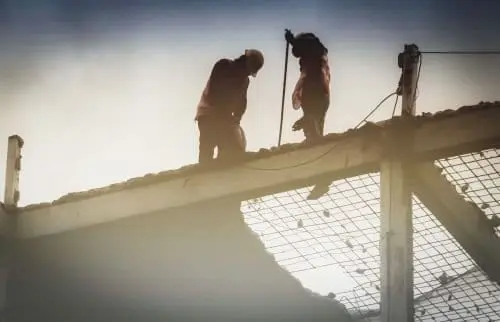 #1 – Commercial Roof Coatings – Inexperienced Installers and Roofing Companies
As the old saying goes, "you're only as strong as your weakest link.", So to it applies to the roofing industry. Commercial roof coatings that are used by untrained crews often experience issues.
Improper application may negate the roof warranty, not keep water out, and require a complete rework. Here are the most common mistakes committed by inexperienced crews.
#2 – Commercial Roof Coatings – Improper Roof Cleaning and Preparation
Almost everyone has painted something before. We all know how to dip a brush or roller in a bucket and spread it across a wall. So, when most people see a bucket of commercial roof coating they think of paint.
Unfortunately, people think they can splash some silicone coating on the roof, and the roofing job is complete. This isn't the case. Silicone roof coatings require vigorous surface preparation before they can be applied.
This cleaning process includes power washing and intense scrubbing to ensure all types of debris have been removed from the roof surface. If the cleaning process is not conducted in a thorough enough manner, the remaining debris will become stuck between the roof and the coating, which keeps the coating from properly adhering to the roof.
In addition to cleaning the roof, there are other vital steps the making sure a roof is fully prepped for a roof coating installation. It is vital to address all flashing locations, seams, and penetrations of a roof with a special flashing-grade roof coating.
If these details are skipped, the roof will fail prematurely almost all the time. Also, some roofing installers are unaware that EPDM seams gradually fall apart, thus, they do not use fabric over these areas, which allows the roof coating to break and fail.
These types of details are crucial for successful commercial roof coatings that will honor the roof warranties and leave customers happy for years to come. Lastly, even steps like mixing the product thoroughly will be skipped, which causes the roof coating to fail prematurely.
A common characteristic of inexperienced roofing installers is the speed at which it works. It is ideal for everyone that projects are completed quickly and on schedule, but a speedy completion should never compromise the quality of the work.
Commercial roof coatings must be applied to the roofing manufacturer's specifications, or they will fail. There is no "gray area". Sometimes, roofing installers work too fast and do not complete the roofing project correctly.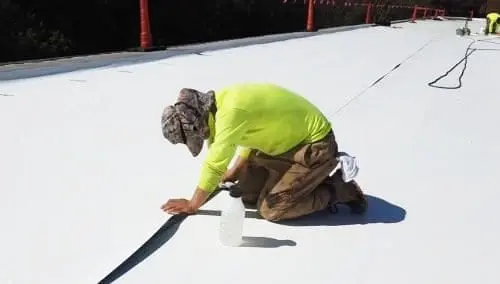 #3 – Commercial Roof Coatings – Coatings Are Applied When They Shouldn't Be
Silicone roof coatings are great when it comes to keeping water out of a building, but it is not so great when water is already between the roof layers and the building structure. Typically, the most regularly ignored cause for delay is a wet roof.
Roof coatings cannot be applied even if there is light dew on the roof because they will not stick. Unfortunately, this red flag doesn't stop some roofing contractors because they do not want to be delayed.
The failure will not show for a few years until the coating begins to de-laminate from the roof. By then, the roofing contractor will be long gone.
Another major factor is if the insulation under a roof is wet. Moisture will come back up through the roof and "blister" the roof coating eventually leaving openings throughout the roof if it is in the insulation before a coating is applied.
If not adequately addressed this has the potential to cause significant problems to the roof coating system above it. Trained roofing professionals will use infrared scanning to ensure there is no moisture trapped beneath the surface of the roof to confirm the roof is qualified to receive a roof coating.
Another example of cutting corners is by failing to create a "monolithic roof coating system." This method consists of creating a seamless membrane on the roof's surface and adequately coating underneath structures on the roof.
Many times, a roofing contractor will coat up to a temporary A/C curb or pipe support without lifting them up and coating underneath them. These areas will eventually fail and cause the building owner headaches down the road.
All these oversights are the result of improperly trained roofing installers and should never occur during a professional commercial roofing project.
#3 – Commercial Roof Coatings – Low-Quality Manufacturers & Products Result in Low-Quality Results
Recently, the silicone roof coating industry has been flooded with new roofing manufacturers trying to capitalize on the growing demand for the product. This influx of roofing manufacturers has resulted in a lower quality of products that are leaving consumers with an inferior product.
#4 – Commercial Roof Coatings – Inferior Products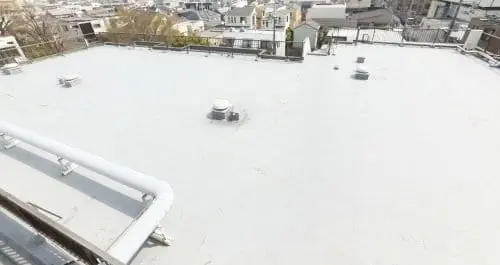 Not all roof coating products deliver the same level of quality. Often acrylic roof coatings are compared to silicone roof coatings and used in their stead because they are a cheaper alternative. Comparing the two products is like comparing a horse & buggy to a modern vehicle.
They are both built for the same purpose, but their performance standards are entirely different. Silicone roof coatings outperform acrylics in every critical aspect; the most significant differentiation being that Acrylics do not maintain a solid state if they remain in contact with water, among other things. This trait means that any ponding water will eventually dissolve the roof coating.
#5 – Commercial Roof Coatings – Unreliable Manufacturers
With countless roof coating installers claiming to be the "best in the roofing industry", it can be difficult to determine who the real leaders are. After comparing spec sheets, it doesn't take long to identify the heroes from zeros.
Parsons Roofing Company uses Gaco Western coating products for several reasons. Gaco Western is the only manufacturer that REQUIRES a pre-roof inspection for a warrantied roofing project. They send out a qualified roofing representative to inspect and confirm that the roof is suitable for a roof coating.
They will then cover the roof warranty by paying for any materials or labor needed to repair defective applications. Other roofing manufacturers rely on the roofing company to determine if it is suitable or not. This process causes severe issues down the road when it comes to roof warranties as roofing manufacturers can indicate that the roofing company should never have coated that roof and then void the roof warranty.
Also, Gaco Western Silicone compares favorably to any silicone roof coating on the market. Just ask us for a spec comparison!
Parsons Roofing Employs Industry Experts, Methods, and Products
Our team of roofing experts is committed to providing our customers with exceptional results that they can rely on for years to come. By instilling industry-wide best practices in what we do, our roofing professionals deliver results that you can count on. Contact us today for a roof inspection and estimate.