Without a doubt, choosing the right cover board for your commercial roofing project is critical.  Your property is valuable. As a financial asset, you want to select products that will add value and provide the maximum safety for your employees and customers for years to come.  Longevity, energy efficiency, and withstanding the extreme elements are all considerations that should enter the equation when selecting a commercial roofing system.
When evaluating a new roof or roof replacement system, remember that commercial systems consist of layers that work together to create a structure that not only serves as a thermal barrier but is fire-resistant and waterproof.  The products you choose for this type of significant capital improvement should be able to stand up to extreme elements and contribute to extending the roof's life.  
One component of a robust and comprehensive commercial roofing system is the cover board. It creates the foundation for a solid roof covering and ensures that the insulation is well-protected.  Let's take a look at the commercial roofing cover board options.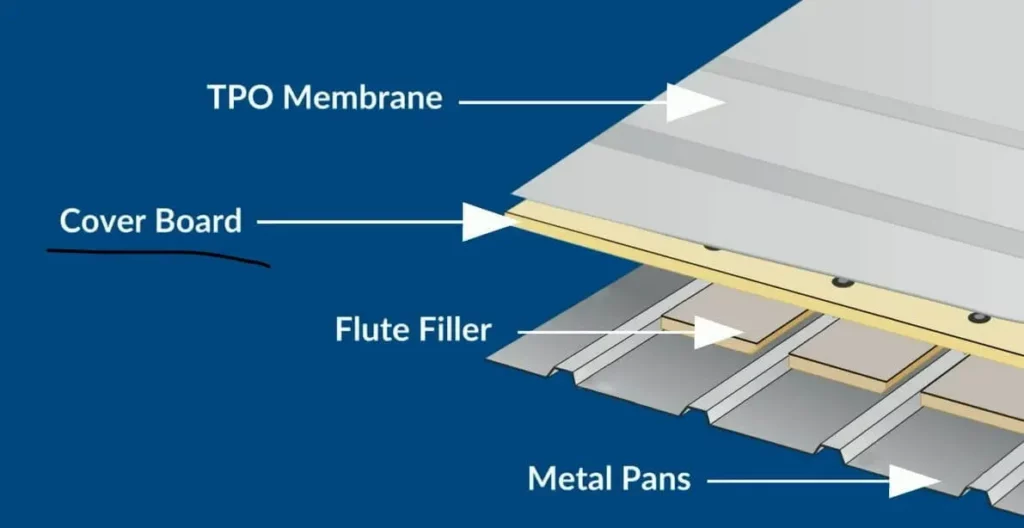 Where is the cover board?
Commercial Roofing Project – What is a Commercial Roofing Cover board?
A Cover board is a product made from various materials and is an essential component that adds durability and longevity to any roof.  So important, a cover board is required on almost all commercial roofing installations and is a "must-have" if you expect a long-term warranty with your new roof.
Cover boards create a barrier layer between the hard, abrasive roof deck and the underside of the roofing membrane or insulation. 
Commercial Roofing Project – Why are Roof Cover boards so Important?
Quality cover boards enhance the long-term performance of your commercial roofing project and your roofing system.  They are more than just one layer of the whole — they play an integral role in determining the overall endurance and permanence of any roof installation.  To catalog the importance of cover boards consider the following:
They create a smooth, hard, and level substrate foundation to adhere to the membrane layers for long-lasting roofing applications that are watertight and resistant to insulation off-gassing.
Cover boards protect the insulation from moisture and foot traffic, ensuring roof strength, consistency, and energy efficiency.
They are an effective fire barrier and significantly improve fire ratings by protecting the highly combustible insulation material.
With their overall inherent strength and hard surface, they are puncture and impact-resistant to maintain an uncompromised surface.
Cover boards help prevent blistering and bubbling during hot asphalt installations, further protecting roof integrity.
With over 2/3 of the US susceptible to hail damage, cover boards are critical for your commercial roofing project in minimizing storm damage and preventing wind uplift, while protecting the insulation before there is damage to the roof's thermal resistance or R-value.
Virtually eliminates insulation facer delamination with its cupping, edge cavitation, shrinkage, and powdering that weaken a roof and disrupt its overall integrity.
Commercial Roofing Project – Types of Cover boards Available
While not an exhaustive list, here are some of the most popular types of cover boards that could be used in your commercial roofing project. The type of cover board varies per project and it's important to determine their pros and cons to help point you in the right direction when selecting commercial roofing materials:
#1 – Commercial Roofing Project – Fanfold Cover board
Fanfold is made from closed-cell expanded polystyrene that is both lightweight and resilient.  It tends to be easy to work with as it unfolds across the work surface.
Pros — Fanfold cover boards are the least expensive option, yet still achieve a 15-20-year NDL warranty in most cases.  They are only one-half-inch thick and are relatively easy for commercial roofing technicians to install (ease of installation is one of the factors that keeps the cost down).  A fanfold cover board is also able to hold up under moisture saturation satisfactorily.
Cons — Fanfold cover boards are soft, with a PSI rating of only 10.  They cannot fully adhere to the roof with either low-rise foam or bonding adhesive, so they can only be mechanically attached.  Because of their soft consistency, they don't stand up well to foot traffic, puncture damage, or hail.  Subsequently, very few fasteners can be used to attach or affix them to the roof, and you are left more exposed to the elements than with other cover board options. 
#2 – Commercial Roofing Project – Wood Fiber Cover board
Like the composition board used in furniture, wood fiber is combined with a resin binder to create thick sheets used as a cover board.
Pros — Wood fiber roofing cover boards have been used for decades and have a long-time proven track record.  A by-product of paper production, this option is exceptionally durable, with a PSI rating of 45.  They are heavy, so they are resistant to wind friction and curling as well.  Despite its substance and durability, wood fiber cover boards are still a low-cost, economical choice for your commercial roofing project.
Cons — Unfortunately, wood fiber cover boards are not available for commercial roofing manufacturers' 20-year NDL warranty.  With limited strength, these roof cover boards don't hold up well to foot traffic, expand and break down quickly when saturated, and don't have a strong resistance to punctures.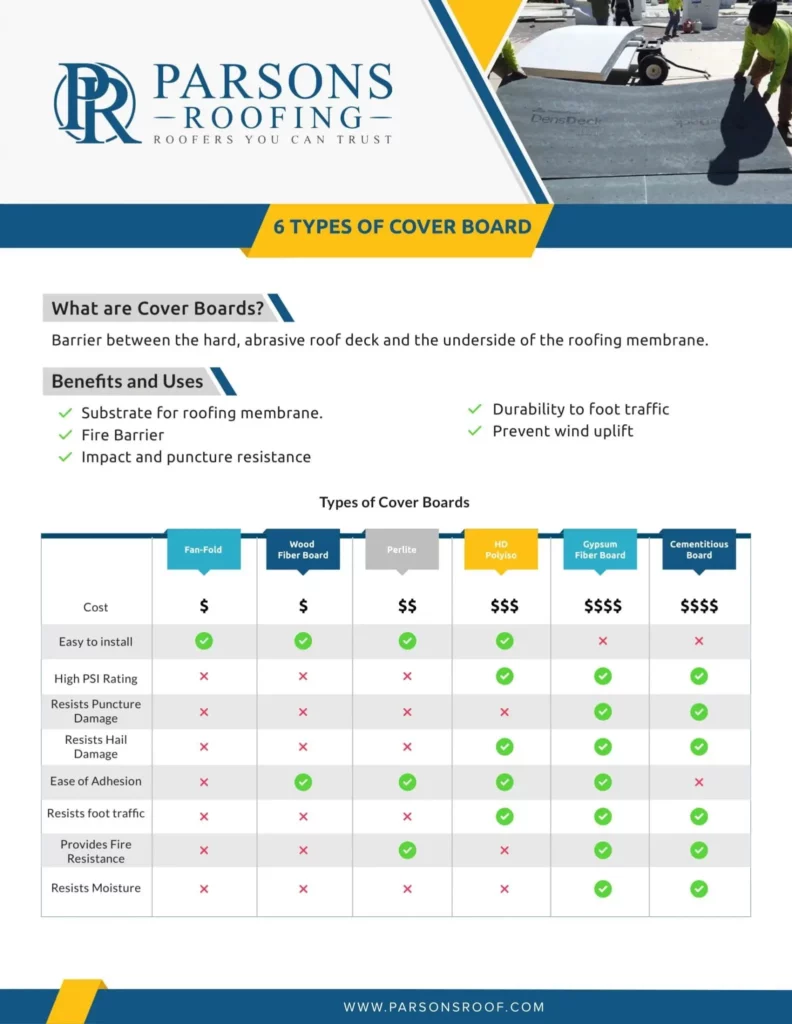 #3 – Commercial Roofing Project – Perlite
Perlite is an inexpensive cover board option that has a long history in the roofing marketplace.  It is primarily composed of volcanic materials, along with minerals, fibers, and cellulose binders.  Additionally, one-third of the raw materials used to create perlite roofing cover boards come from recycled materials making it more sustainable than other cover boards.
Pros — Perlite roof cover boards have stable insulating properties and are available in multiple thicknesses.  Perlite makes an excellent natural insulator and can expand to 20 times its original volume when exposed to heat.  It also takes on a foam-like internal structure when heated, making it an efficient and low-density insulator for commercial roofs.  Perlite cover boards provide a decent level of fire resistance and moderate resistance to moisture as well. 
Cons — Perlite cover boards have a low compression strength of 45PSI and do not resist damage from foot traffic or heavy equipment during the installation phase. Additionally, this cover board option is not compatible with TPO adhesives, can degrade when wet, and does not resist burning or fire. This is why it's crucial to choose your Commercial Roofing Contractor strategically and to perform extensive research for your next commercial roofing project.
#4 – Commercial Roofing Project – High-Density Polyisocyanurate
High-Density Polyisocyanurate or Polyiso cover boards are composed of compressed polyisocyanurate with a coated glass-mat layer on the front and back of the board.  
Pros —HD Polyiso roofing cover boards are rigid and used to cover small gaps while still holding strong. They are light and easy to move across the roof during the construction phase. Polyiso cover boards easily adhere to low-rise foams and bonding adhesive for adhered applications.  They also have an excellent R-value for insulative qualities and satisfactory resistance to foot traffic during installation.  They have a PSI rating of 80 and are proven to withstand intense hailstorms.
Cons — HD Polyiso cover boards have two problems of note.  First, when saturated, this type of cover board breaks down and loses its R-value; second, the edges are prone to curling and not lying flat.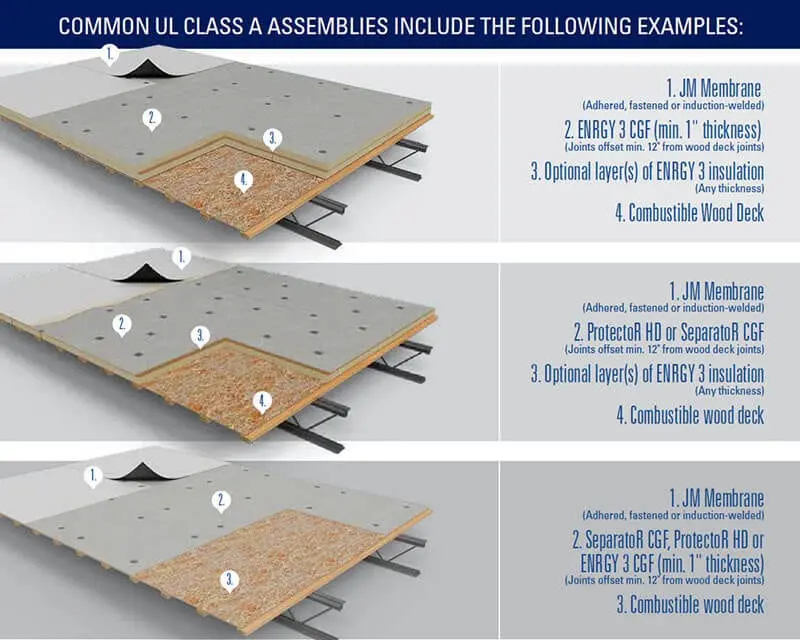 #5 – Commercial Roofing Project – Gypsum Fiber Board
Gypsum fiberboards are commonly known as DensDeck and are a high-density gypsum core, layered between mechanically bonded fiberglass mats on either side.  
Pros — Because of their durability and high PSI rating of 900, DensDeck cover boards are also resistant to mold, fire, and hail. They can be installed with various adhesives, making them ultra-compatible with most commercial roof system types.  Further, DensDeck can be cut into different thicknesses and is very heavy.  It will help secure the membrane in a fully adhered application and doesn't curl at the edges.
Cons — Using the gypsum option is somewhat expensive, and the weight of the board makes it difficult to carry around the roof for installation.  This option also deteriorates quickly when saturated and has a minuscule R-Value. 
#6 – Commercial Roofing Project – Cementitious Board
This cover board option is composed of a lightweight cementitious core and reinforced with a mesh.
Pros — Cementitious board is well suited as a cover board for all commercial roofing systems. It possesses excellent resistance to fire, moisture, and hail.  Additionally, this option has excellent resistance to damage from foot traffic and punctures and has a high PSI rating.
Cons — Although the cementitious board has many advantages as a cover board option, it does have a few drawbacks. For instance, it is cumbersome and difficult to maneuver during a roof installation.  Also, it must be fully adhered to in order to create a bonded roof installation.  These factors, plus the high material cost and additional labor costs, make the cementitious board an expensive, albeit useful, cover board option for your next commercial roofing project.  
Special Considerations When Selecting a Cover board
Whether you are considering new commercial development or are installing over an existing commercial roof, the long-term performance of a commercial roofing system should be at the top of your mind.  By selecting the best cover board product for your application, installation is made easier by fabricating a flat, even substrate that the membrane can be easily adhered to and create a tight seal.
By installing a cover board underneath the membrane, but above the insulation, you are providing a reliable and durable commercial roof that can withstand mechanical systems, wind-blown debris, hailstorms, heavy foot traffic, and extreme or inclement weather.   
Furthermore, fire abatement is a critical consideration.  A commercial roofing cover board is installed over the insulation, which can be extremely flammable.  A roofing cover board can create a thermal barrier that protects from the spread of fire outside the building, enhances the interior fire resistance, and improves the fire code rating. All building owners and property managers are looking to protect their assets which is why it's so important to choose the best and most reliable commercial roofing contractor.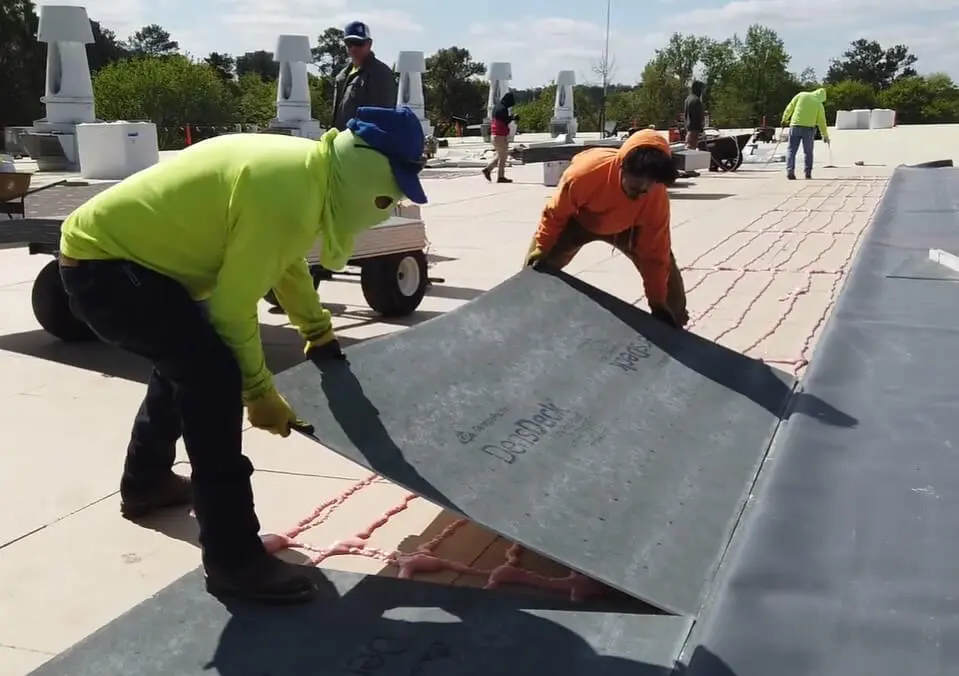 At What Point Do Cover Boards Fall into the Installation Process?
Once the roof insulation is laid, a cover board is installed directly above using either fasteners or a low-rise foam adhesive.  To ensure correct installation, the roofing installers must follow these general installation guidelines:
The roof cover boards should be staggered over the insulation joints to provide an appropriate seal.
The roofing manufacturer's specifications should be followed when determining the adherence technique, i.e. adhesive vs. fasteners.
If fasteners are used, then the appropriate spacing is critical for your commercial roof integrity.
It's critical to only install a cover board that can be covered by the final roofing membrane system on the same day to alleviate any possible damage from extreme weather, like rain or hail.
How the Strategy of Installing Cover Boards has Developed Over Time
Selecting and installing the appropriate commercial roofing cover board can lead to outstanding energy efficiency, insured safety for the occupants, and asset protection for the building owners.  This is a long-term capital improvement and deserves special and thorough consideration.  But exactly how did the use of cover boards gain roofing industry-wide attention?
First conceived as a barrier for solvent-based and hot-applied adhesives to protect the underlayment of insulation and minimize any damage. Roofing cover boards were quickly recognized as supporting the commercial roofing membrane system. Cover boards alleviate blisters while adding strength and support to the overall commercial roofing structure.  While these original cover boards were adequate, the roofing industry quickly realized that they should add another level of strength and years of life to their commercial roofing projects.
Building codes soon came into play as it was discovered that roofing cover boards could increase fire safety and improve wind uplift performance. This further encouraged the development of stronger and better cover boards that were higher performing and urged commercial roofing contractors to create a more durable roof that was longer-lasting and safer.
The State of the Industry in the 2020s
Today, cover boards are the accepted standard for the commercial roofing industry. There is a collective agreement that they not only add additional strength to the roof but also increase value by adding years of service.  As an integral part of creating the roof assembly, commercial roofing cover boards are recommended and endorsed by the National Roofing Contractors Association (NRCA) and by leading industry manufacturers. 
When considering performance attributes, price, quality, and aesthetics, remember no two roofs are the same. A commercial roofing expert, such as Parsons Roofing Company, can thoroughly evaluate your commercial roofing project to help you determine the best options for your roofing system components.  Using state-of-the-art technology, Parsons guarantees the best roofing products and a commercial roofing project timeline. Contact us today to learn more about the best options for your commercial roof system.