The Clifton Condominium Association
We removed the existing ballast from the roof surface, along with the existing roofing system down to the concrete decking. After clearing all debris, tapered insulation was installed, followed by Carlisle 60mil TPO membrane to poly-iso with CAV Grip III adhesive.
For the shingle replacement, we started off by removing the existing roof to the plywood decking. Then, new drip edge metal was installed to all eaves & rakes of the roof, followed by GAF starter shingle. GAF Timberland HDZ Architectural shingles were provided & installed as well (the color was chosen by the customer). GAF Seal-A-Ridge shingles were installed to the hip & ridge. To finish this job, we installed 7″ K-Style gutters to the eaves of the shingle roof with an adequate slope to downspouts in order to promote positive drainage, along with new gutter covers. A Contractor's Watertight 2-Year Warranty, Carlisle Golden Seal 20-Year Warranty (TPO), as well as GAF Golden Pledge Warranty (Shingles), were all included and provided to the customer.
Get a long-lasting Commercial Roof Replacement
Leaks on commercial flat roofs often inspire fear of an immediate replacement in the hearts and minds of property owners. A roof replacement will always be the ideal roofing solution for the longevity of your commercial roof and included roof warranties that vary per manufacturer, such as those offered by Carlisle and John Manville.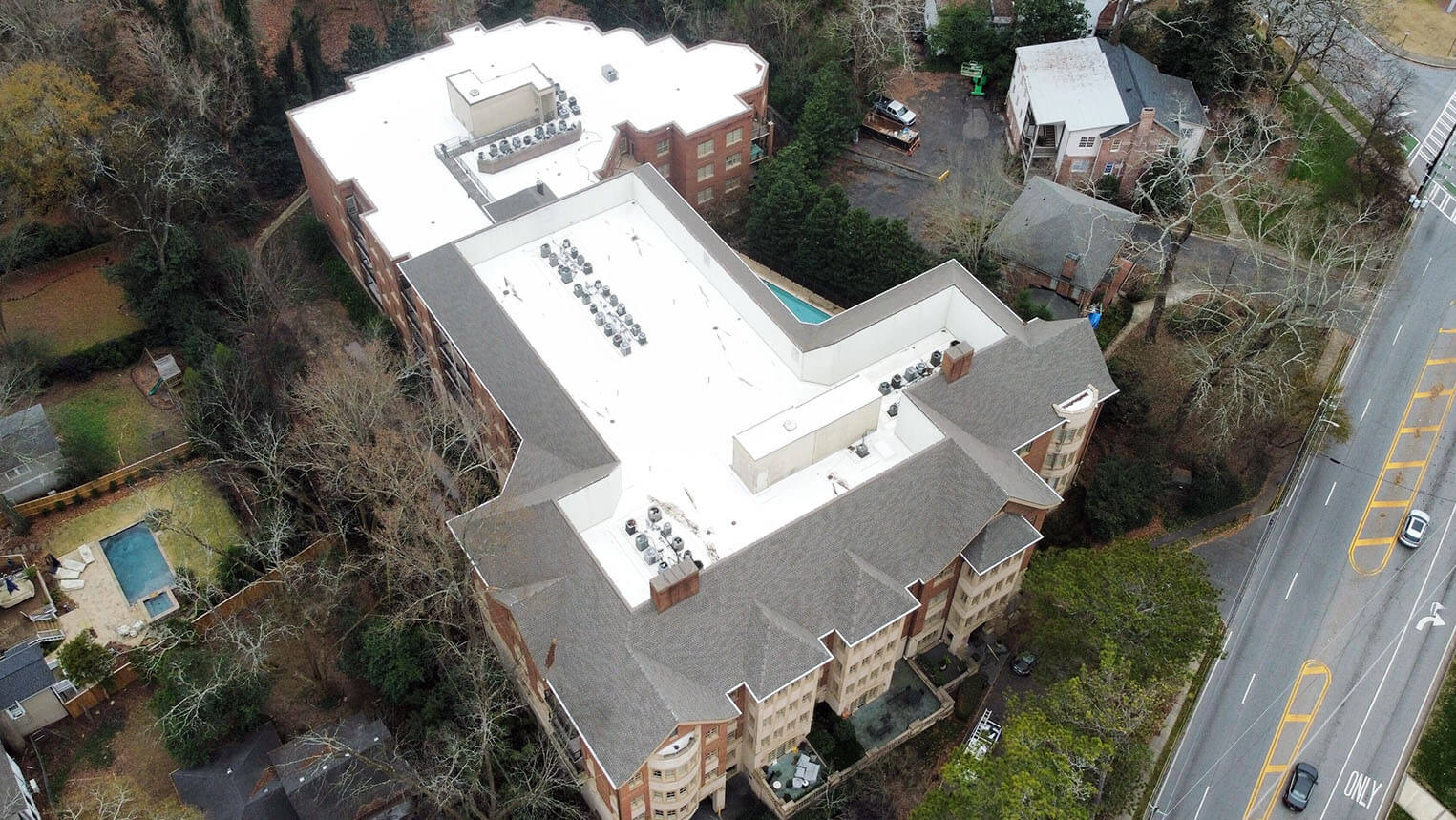 Call for a Roof Inspection:
(678) 756-0224
Commercial Replacement Projects
A few completed Replacement Portfolio projects by Parsons Roofing Company.
Posts from our resources related to TPO Roofing and Roof Replacements
Commercial Roofing Replacement
Contact our commercial roofing team today for a roof inspection for your Replacement roofing project.