Made from strong, corrugated steel panels that are externally fastened to the roof, commercial R-Panel roofing systems are long-lasting when professionally installed.  They are solid and dependable and can last over 40 years with minimal maintenance.  Impermeable and strong, R-Panel roofs are a popular choice for commercial roofing projects.    
In addition to durability, R-panel metal roofs are energy efficient and can be fabricated in a variety of light colors that reflect the sun and add to the efficiency of the building by reducing the monthly energy consumption.  They are also often made from recycled materials, making them environmentally friendly.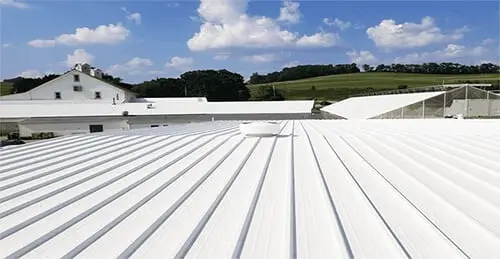 However, there are several potential drawbacks to R-Panel roofs that may require maintenance during the life of the metal roofing system, including:
developing corrosion or rust leading to potential failure,
failing fasteners that hold the seams and roof panels in place,
punctures or unsightly scratches from weather or debris that damage the integrity of the roof, and
fading paint color, especially in hot climates, that creates an aesthetically unappealing overall appearance.
When repairs are necessary, there are several good options, each with positives and negatives. With this type of project, all options for R-panel commercial roof repair aren't always available, and each roof must be assessed individually so that the best option can be determined.  A reputable and established roofing company should be able to provide in-depth analysis and discuss the best actions.
Let's compare each of the four types of repair methods: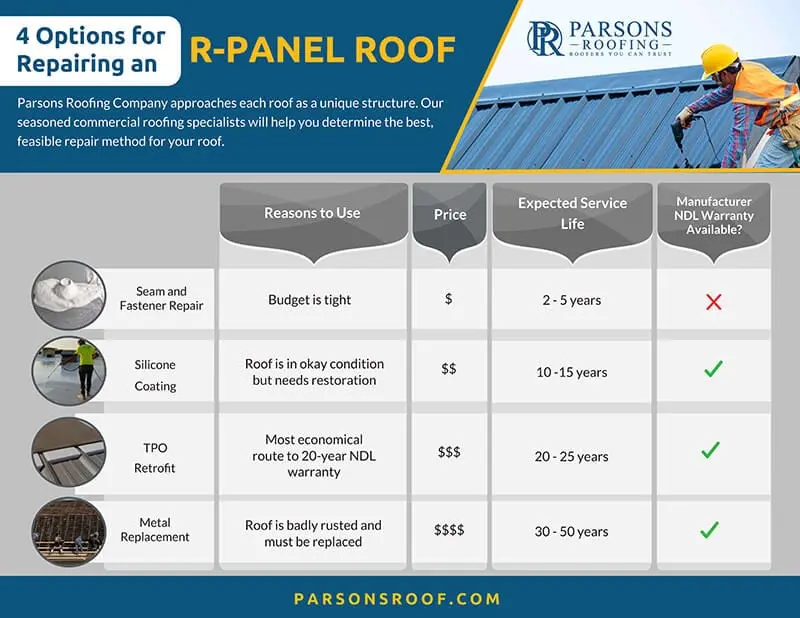 #1 – Seam and Fastener Repair
This includes replacing all missing or loosened fasteners and then generously covering each fastener head with a silicone flashing-grade coating.  In addition, all seams where flashing and roof edge metal are located are coated with flashing-grade silicone to ensure longevity and protection. 
Considerations:
If budget is a concern, this is the least costly option.
While this type of repair is highly effective for the dollar investment, it does require ongoing maintenance and return visits to ensure that the integrity is upheld.
On the downside, this type of solution is weak against building movement and is ineffective in protecting the roofing panels themselves.
Unfortunately, the Manufacturer's NDL warranties are not available with this option.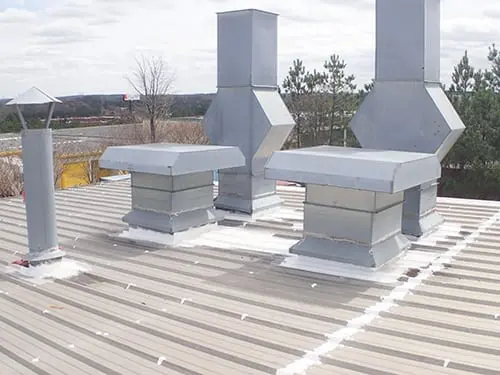 #2 – Silicone Coating
This type of repair includes spray-applying a full silicone coating system to the entire roof. This repair works well if the panels have little to no rust and if there are no internal gutter issues that need to be repaired.
Considerations:
With a silicone coating repair, the roof must be sealed with flashing grade silicone on all fasteners and seams before a full coat of silicone is applied to the entire roof, making this very labor-intensive.
This type of repair is eligible to receive up to a 20-year NDL warranty from the manufacturer.  However, the 10-year warranty may be the most economical long-term.
With its tight waterproof seal, this is an excellent choice when guarding against ponding water or other moisture issues. 
Silicone coating stands up well to UV light and extreme elements.
On the downside, this type of option does not stand strong against building movement or sway. 
This solution is inadequate if there are heavily rusted panels that compromise the roof integrity.
#3 – TPO Retrofit
This type of repair includes filling the metal pans with EPS flute filler insulation and then installing a cover board and TPO directly into the metal purlins creating a new roof membrane.
Considerations:
This TPO retrofit option is highly effective against building movement and light rust corrosion.
However, it is not an appropriate solution when installing over heavily rusted panels. Unfortunately, the rust will continue to spread under the TPO system and ruin the integrity of the roof.
This option is a remarkably effective mitigation against internal gutter leaks.
A TPO Retrofit solution is the most economical option for a 20-year manufacturer's NDL warranty.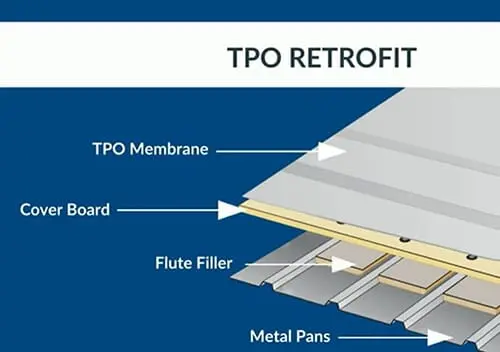 #4 – Full Metal Replacement
This option includes removing the entire existing metal roofing system and rebuilding it completely.
Considerations:
A full metal replacement roof would be the costliest option and is an extremely invasive process during demolition and re-installation.
The good news: a new roof will last up to 50 years and is eligible for a full manufacturer's NDL warranty to cover the work in its entirety.
This solution is only recommended when the panels are badly rusted and there is a concern for the integrity of the roof structure.
But please keep in mind that metal roofs are very difficult to install and require extremely skilled labor, which increases the cost even further.
Protect your Asset
Your building is a major asset for your organization, and having a solid, sturdy roof is a huge component in protecting that asset.  
Parsons Roofing Company offers top-quality R-panel roof repairs and upgrades to clients in the Southeastern United States.  Our highly-skilled commercial services team has over 100 years of proficiency, mastery, and expertise in all manner of roofing projects.  When considering R-panel roof repairs or upgrades, you want a reputable group with deep ties to the community that you can trust will be there throughout the life of your product.
Contact us today for an in-depth inspection or to answer any questions about commercial roofing.