Roofing Maintenance Plan: Benefits of Prevention
Benjamin Franklin once said that an ounce of prevention is worth a pound of cure. There is significant wisdom in that. With that prevention, also comes valuable reassurance that a vital aspect of your life will not fail when you least expect it. Certainly, this ideal can be applied to many aspects of life, but it is especially important for protecting your commercial roof assets.
Roofing Maintenance Plan: Catch Issues Before They Become Bigger Problems
Generally, a high-quality roof is going to last for decades. However, that doesn't mean that bits and pieces of the roof won't fail over time. Many environmental factors can deteriorate parts of your roof, including extreme heat, heavy rain, high winds, intense storms, large hail, and surrounding nature including trees and wildlife.
When a piece of your roof begins to fail, whether it is a large section or just a tiny fastener, it can come with significant consequences. Roof damage can be like the domino effect; once one part begins to fail, it can trigger other sections to fail as well. That is why it is vital for the effectiveness of your roof to catch those small issues before they become bigger problems.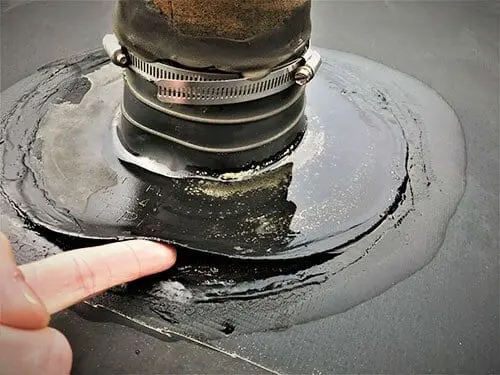 Roofing Maintenance Plan: Avoid Costly "Surprises"
We believe the key to an optimally functioning roof is proper planning and preparation. Being prepared puts you in the "know" and gives you an advantage in a world that is full of non-ideal surprises. Why wait for a major expense to come when you can instead prevent it from ever happening?
That's why Parsons Roofing suggests a maintenance plan for your business facility. Creating a quarterly or bi-annual roof inspection plan is the best way to catch small issues before they become bigger problems, avoid those costly surprises, and ensure that your business is protected.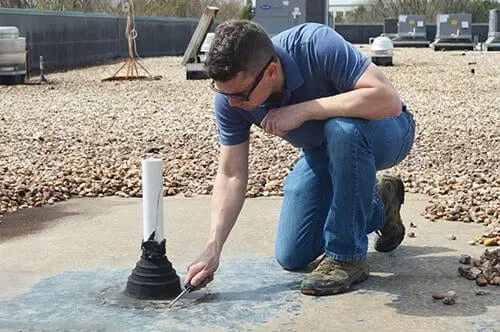 Roofing Maintenance Plan: Know the Condition of Your Roof
A quality roofing maintenance plan should include regular inspections and preventative maintenance; Parsons Roofing Company recommends two to four scheduled inspections a year. They can be scheduled seasonally or before and after severe weather seasons.
By maintaining this schedule, clients have a clear understanding of the conditions of the commercial roof, before and after major weather events or the patterns of seasonal changes. Regularly scheduled visits put building owners at less risk for costly damages and more significant repairs. A qualified technician should check the condition of the following during regular inspections:
What Does a Roofing Maintenance Plan Include?
Field Surface – note any blistering, cracking, tears or holes, abrasions, or deep scratches in the membrane.
Inspect the roof surface for accumulated dirt, moss or fungus, or debris
Flashing – should not be pulling away from the roof or have gaps
Blisters – a gas expansion that causes bubbles in the roof
Ensure the soundness of support structures and stairs, crossovers, platforms, and railings
Inspect structural elements, including vents, pipes, and equipment
Roof edges– inspect the attachment quality and water-tightness of all edges
Roof drains – check these for debris
Check for any evidence of ponding water on the roof surface
Evaluate the condition of any existing skylights and seals
Check for loose or missing fasteners on metal roofs
Check for cracking or shrinking caulk
Advice on additional action that can be taken to protect your roof
Who is qualified to perform maintenance inspections?
While it may seem simple to pop up on a roof and look around, most untrained individuals will have no idea what they are looking at or if there is any damage. You want experienced and certified professionals who know precisely what they are looking for and can provide high-quality solutions for you.
Parsons Roofing is made up of a team of seasoned professionals who want to provide you with the highest quality service. We are licensed by Holcim Elevate, Carlisle, Johns Manville, Versico, Gaco Western, and Tropical Roofing Products, and are HAAG certified for commercial roofs. We will provide you with comprehensive roof evaluations and a range of solutions that you can choose from to suit your needs.
We will happily guide you in choosing the optimal solution for your roof that will also be as cost-efficient as possible. 
Roofing Maintenance Plan: Weighing the Costs
We suggest comprising building maintenance records on roof repairs and comparing those expenses with a quote provided by the experts at Parsons Roofing. You will be able to compare the short-term and long-term solutions to determine which option will save you the most money and provide you with the most effective product.
You might find that a short-term solution will be great for the time being, or you may find that those recurring repairs are ultimately a higher expense than a replacement, which could provide a new warranty.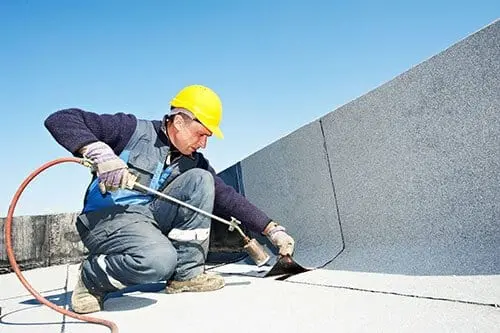 Our team can analyze your repair patterns and help determine the safest, most cost-effective solution for your roof.
By creating a maintenance schedule and reviewing your history of roof repairs, you are putting your assets first and getting ahead of costly surprises.
With a little help from our team of dedicated individuals, we can take an ounce of prevention and turn it into a solution that you can count on. Schedule a commercial roof consultation today and take the first step in protecting your assets.