#1 Flat Roof Coating – Protect your Commercial Roof
Flat Roof Coating by Parsons Roofing Company. We are an Atlanta-based Roofing Contractor offering the best commercial roofing services. When a flat roof needs restoring there are options other than total roof replacement that save customers a significant amount of money. A silicone roof coating is an ideal solution for both large and small commercial roofs.
The cost can be as much as 75% less than a commercial roof replacement. These types of roof coatings are also tax-deductible in year one because the project is classified as roof maintenance. This tax classification means that you avoid amortizing your tax deductions as a capital expenditure item. This article will review the different scenarios that building owners face and why a roof coating is an appropriate solution.
#2 Flat Roof Coating – Don't Ignore Roof Issues
One of the biggest mistakes that building owners can make is to ignore roof-related issues. By avoiding regular maintenance plans or by not addressing leaks, owners put themselves in a more problematic scenario financially.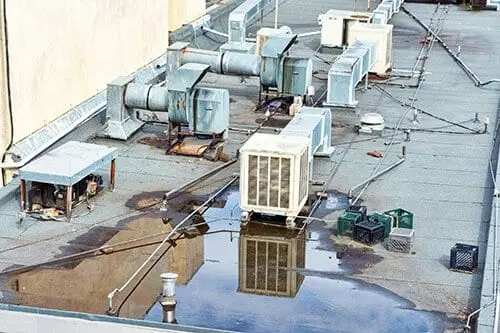 A silicone roof coating is a more cost-effective solution than total roof replacement. Deferred roof maintenance may compromise the existing roof system to a point at which coating is no longer an option.
Ignoring leaking roof areas can lead to insulation under the roof becoming overly saturated with moisture. Once this Ignoring leaking roof areas can lead to insulation under the roof becoming overly saturated with moisture. Once this happens, a roof coating is no longer an option because an applied roof coating will blister from the evaporating moisture beneath it.
Once the insulation under the roof is wet, the only realistic option left is a roof replacement. Total roof replacement is always more expensive. Learn more about the average costs of fixing flat roofs.
#3 Flat Roof Coating – State Building Codes
Per the Georgia building codes, only two roofing systems are allowed on a structure before a roof replacement is required. For older buildings that already have two roofs from previous projects, roof coatings are an excellent solution because they do not legally count as a roofing system.
Rather than proceeding with a costly roof tear-off and roof rebuild, coating a preexisting flat roof is a cost-effective option that can extend the life of the roof with an equivalent warranty. For a preexisting roof to be eligible for a silicone roof coating, it must be a smooth surface (single-ply, EPDM, TPO, PVC, Modified Bitumen, or BUR.)
Flat Roof Coating – Metal Commercial Roofs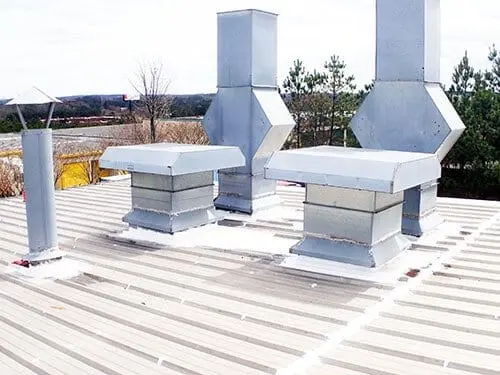 If the existing roof is metal, a complete coating is not necessary unless a coating was previously applied. A professional crew can coat the seams, fasteners, and penetration locations with a silicone flashing grade coating that will save the customer a significant amount of time and money.
#4 Flat Roof Coating – Ponding Water
On many commercial flat roofs, water doesn't properly drain off of the building. When the water is unable to drain, it accrues in little ponds in the low points of the roof. This type of occurrence is called ponding water and typically occurs due to the settling of a building which creates an unlevel surface. This issue can void roof warranties and cause internal water damage to buildings.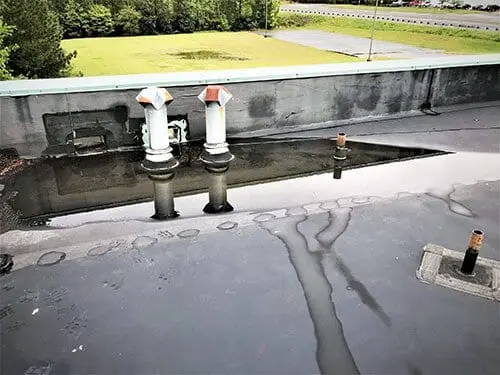 Applying a silicone roof coating can help level out the roof as a preventative measure and also protect the roof from the negative effects of persistent standing water.
GacoFlex SF2000 is a solvent-free 100% silicone roof coating that renews weathered, leaking, and "dipped" roofs. The application of Gaco silicone roof coating is beneficial because it is the ONLY product that has an unlimited ponding water warranty from the roofing manufacturer.
#5 Flat Roof Coating – Create A Roof Maintenance Plan
The most effective way to address roof-related issues is by installing a roof maintenance schedule. Building owners can proactively address problem areas with their roofs before they become damaging and costly. As the old saying goes, "An ounce of prevention is worth a pound of cure."
Parsons Roofing Company is dedicated to helping our customers receive the best outcome for their roof and their business.
Contact our team of roofing experts for a commercial roof inspection.