Best Commercial Roofing Atlanta by Parsons Roofing Company. We are an Atlanta-based Roofing Contractor offering the best commercial roofing services.
Commercial roofing contractors solve many of these roofing issues: leaks, new installations, storm damage, and unsightly appearance. Whether your commercial roof needs a small repair or a full replacement, our team at Parsons Roofing is equipped to provide all types of roofing solutions.
We work with property managers, multi-facility owners, and commercial building staff according to the needs of the building and the budget of the owner. To help you gain an understanding of what it takes to construct a quality commercial roof, we're going to break down the common roofing types and material classifications for you below.
Commercial Roofing Atlanta – Flat Roofs
Flat roofs are the least expensive roof type and easily available type to install, as there is a lesser area to cover when compared to other roof types. They come in a variety of colors, roof membranes, and materials. You can easily place air conditioners or satellite dishes and walk around comfortably on a flat roof; however, neglecting maintenance may cause issues like standing water and drainage.
Commercial Roofing Atlanta – Low-Sloped Roofs
You can find low-slope roofs on factories, industrial, and apartment buildings. They appear almost flat, but they have a slight pitch. The slight slope of the roof allows the water to run off and encourages proper drainage. Hence, there will be no standing water. Avoiding water contact also means there is a lesser risk of rusting of metal parts on roofs.
Commercial Roofing Atlanta – Pitched Roofs
Pitched roofs are popular for homes, but you can also find them for commercial buildings. As the roof is steep, it provides higher runoff for snow, water or leaves, and debris. However, there is one drawback – it could get challenging to move around on a pitched roof in case you need any repairs or general roof maintenance. No matter what roof type you have, you should contact a roofing contractor to guide you.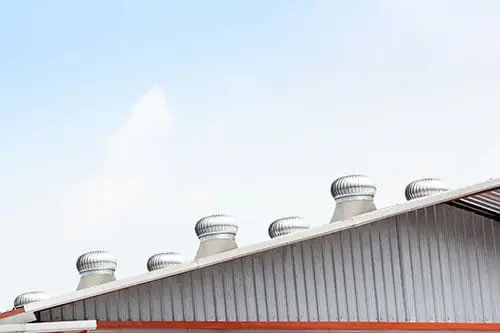 "Choose the right roofing material for your commercial building depending on your requirement."
Materials Used by Commercial Roofing Atlanta Contractors
Commercial Roofing Atlanta – Metal Roofing
Metal is among the most popular commercial roofing materials. Usually, the materials used are aluminum, tin, steel, or others. Metal roofs are durable and long-lasting. They can also withstand high winds and snow and prevent fires from spreading.
"Metal roofing is the most preferred material for commercial buildings "
The main advantage is that you can install a metal roof over your existing roof. Sheet metal can be made from recycled material and is available in many designs, colors, and styles.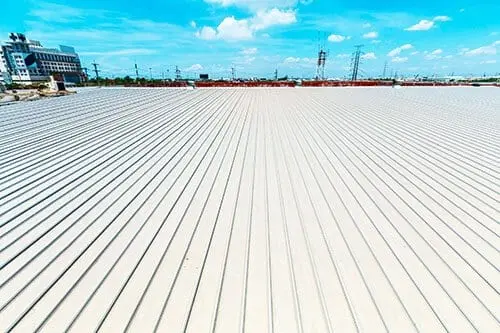 Commercial Roofing Atlanta – Thermoplastic (PVC)
PVC (Polyvinyl chloride) is a popular choice for flat roofs. Commercial roofing contractors install these PVC membranes by welding their seams and sealing them to the roof deck. White membranes reflect sun rays, keeping buildings cool. Not to mention, they are fire-resistant and can resist high temperatures. PVC roofs are also 100% recyclable. Since PVC has better chemical resistance, it is suitable for restaurants and other buildings.
Commercial Roofing Atlanta – Thermoplastic Polyolefin Membrane
TPO is a new material that most commercial roofing contractors choose due to its durability and low cost. Its lightweight material doesn't put stress on the building structure. Because the surface is rather slick, which allows for water to roll down easily. A TPO roof is more efficient, as it can adapt to your building's setting. Like metal roofs, TPO is also recyclable and an eco-friendly option.
Commercial Roofing Atlanta – Modified Bitumen
Modified bitumen roofing material uses asphalt, plastic, polymer, or rubber modifiers in two-ply systems. This type of roofing is installed using conventional methods such as the hot or cold application or self-adhered.
It's an excellent option for buildings with flat or low-slope commercial roofs due to its longevity and strength. An adequately attached bitumen roof also protects against water damage. The insulating layer of this roofing material limits the flow of heat through the system leading to higher energy efficiency.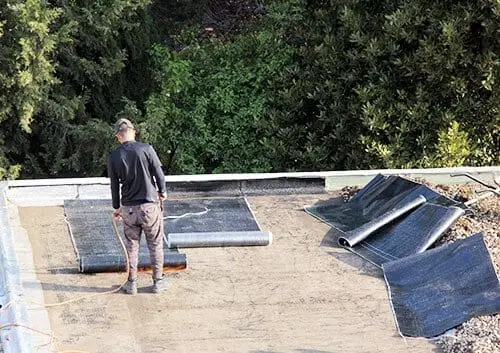 Commercial Roofing Atlanta – Thermoset or EPDM
EPDM (Ethylene Propylene Diene Terpolymer) is a highly durable synthetic material that uses carbon black to block UV radiation. The inert material is like rubber which makes it versatile, flexible, and easy to install on commercial roofs. As it is black, it works well in regions with colder climates as opposed to warmer climes. That's because hot weather may cause cracking of the roofing material, leading to water intrusion. However, it needs insulation to go with it.
At Parson's, we fly a drone equipped with an infrared camera which helps in assessing roof leaks through infrared scanning. This real-time information allows us to make an accurate decision when it comes to repairing or replacing the roof, in a much `more efficient manner.
Commercial Roofing Atlanta – Built-up Roof or Tar-and-Gravel
BUR or built-up roofing is a tar-and-gravel roof installed in multiple layers. It is one of the oldest and sturdiest roof membranes. During installation, commercial roofing contractors insert tar membranes between layers of waterproof material. Then they add an aggregate or gravel surface on top. These roofs are sturdy and cost-effective and look stylish. They offer UV ray protection and are suitable for low-slope roofs.
Commercial Roofing Atlanta – Green Roofing
Many business owners today are focusing on protecting the environment. Hence, we see a rise in green roofing, which involves putting soil and plants on a flat roof. While green roofing needs a lot of care and can get expensive, it increases the longevity of your building. Furthermore, it improves the insulation and cools the building by soaking up the heat. It is a versatile and sustainable option that enhances energy efficiency.
"Look into eco-friendly solutions for your commercial roofing."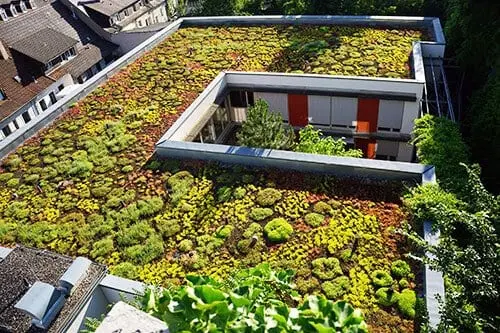 Speak to Expert Commercial Roofing Atlanta Contractors at Parsons Roofing Company
If you need a new roof or maintenance for your new business establishment, you must speak to experienced commercial roofing contractors. At Parsons Roofing, we pride ourselves on providing expert care for all your roofing needs. Request a roof inspection.